Home / Composition 1 / Level 7
Level 5
Settings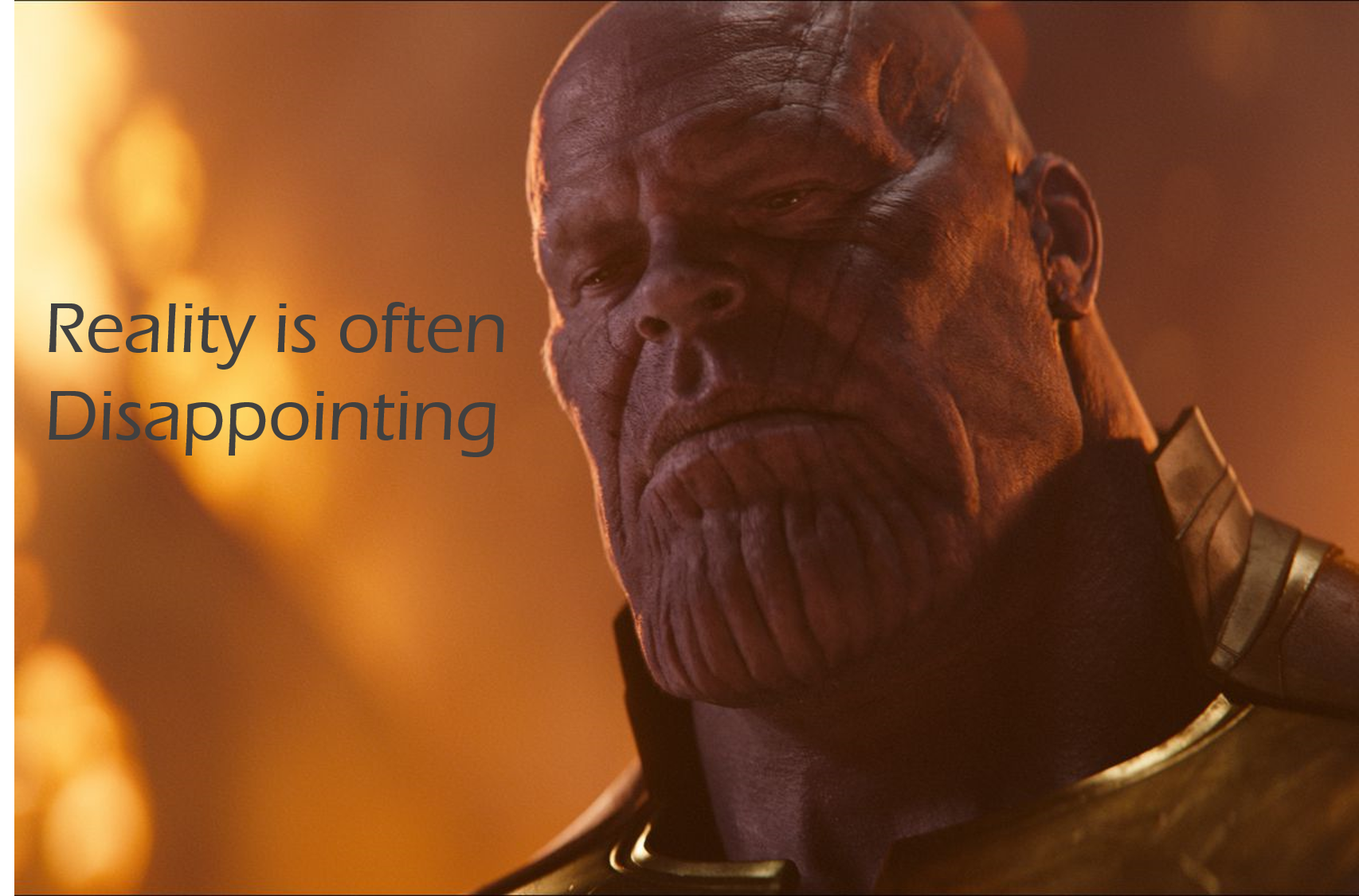 Verisimilitude
Faithful to the reality within the film

If a film is supposed to be set in our reality, such as an historical film set in Titusville, a person cannot lift cars and throw them. THAT would not fit the film's verisimilitude.
If the film is set in the Marvel Universe, a Hulk can turn big and green, but he cannot turn yellow and small. THAT would not fit the MCU's verisimilitude.

Whatever "reality" a film sets up (be it a close parallel to our IRL world or a fictional world), the film must maintain its own rules of reality.
When a film breaks its own rules of reality, verisimilitude is broken.
Hyper-reality
Quite often, even films set in our IRL reality cannot conform to our IRL verisimilitude; films often must conform to other films.

EXAMPLE [Cleanliness]:
In films, the interiors of cars and houses are ALWAYS clean (unless intentionally messy to backdrop the character's chaotic life). IRL, houses and cars have various levels of messiness.
EXAMPLE [Family Breakfast]:
In film, family breakfast is a wide smorgasbord of eggs, bacon, sausage, toast, pancakes, fruit, and often a big glass jug of milk. IRL, such a breakfast would mark only a very special occasion, and mostly family breakfast is simple, such as just cereal or just bagels.
EXAMPLE [Wet streets]: In film, streets are almost always wet--even on a clear day (it makes for good cinematography); IRL, streets are usually dry, especially so on a clear day.
Here's a long Reddit post about what people have noticed.

These hyper-real moments are considered hyper-reality because most people will think that what happens in "reality-based" film is more true to our IRL reality than what our actual IRL reality is like.
Some more examples

IRL, school dances never look as elegant as school dances in films.
SCENE: A group of people are being briefed on a person or situation; multiple images and documents pop up conveniently on a screen with a click of a few keys. In real life, these documents would need to be in a slide by slide power point, or it would take many minutes of clicking to open the files, resizing of the windows, and repositioning them on screen.
Cell phone font size in texts are MASSIVE (readable without having to zoom the camera in too much).
In film, no one uses Google, or Edge, or any known search engine.
In film, infinite zoom can be used on almost all images--zooming in on a group photo to one's person eyeball to see the reflection of the killer who was not in the picture.

Test your Reality

Test your ability to distinguish between IRL reality and a film's reality that is supposedly set IRL.
The Quiz: Choose your answer for each question


The Key: Check your answers.

Assignment

200- 250 words
Discuss the breaks in your film's verisimilitude
And/Or, discuss parts of the film that are supposed to be, according to the film, parallel to IRL reality, but the film instead conforms to all filmic hyper-reality, such as the massive breakfast spread or the perfectly clean cars or school dances, etc.